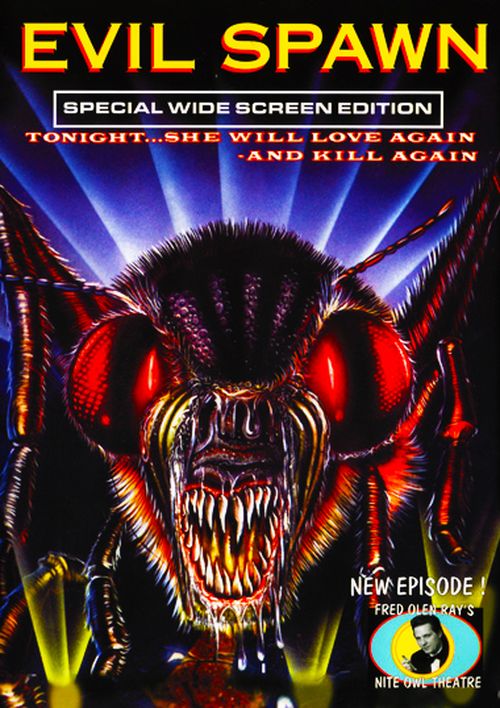 One of the main reasons I'm into collecting and savoring horror films is because Hollywood has become old, dusty and tired. They don't have anymore GOOD ideas. Re-makes and re-boots are everywhere these days and there isn't anything anyone can do to stop it. Another main reason I'm into collecting and savoring horror films is because I'm on an eternally perennial quest. There is a short scene from some either sci-fi or horror (or possibly both) movie that has been latched to the back of my brain since about second or third grade. The scene is some guy lying on the floor of a hospital and a strange black-ish, grotesque slug/alien thing protrudes from his mouth and slithers away. That's all I have. That's all I remember. It's a result of staying up late one night with my dad when I was very young before he started working swing shift work and he had the weekends off. We would always watch random movies and tv shows together. It was a scene that really stuck to me when he was flipping channels one friday or saturday night, and it never left me. I have to find what freaking movie that was from. I thought maybe it was one of the Hidden movies. Nope. Parasite? Not quite. Deadly Spawn? Don't own a copy of it. Evil Spawn? Of course not. I may never find the film that invades my subconscious with that particular scene, but it's always fun trying to figure it out. Evil Spawn is a Fred Olen Ray movie that is just something else. A pretty sexy blonde (she's too old??) is trying to land a role for a movie to get back to work, but no one wants her because "she's too old." If she's too old, then I'm still in second grade. Bug/aliens start getting involved as well. Is there a can of raid somewhere? I don't see one.
Blondie has a heart of glass.
The film incubates from Fred Olen Ray introducing his show and pulls the Evil Spawn dvd out from between his wife's breasts. I'm all for it. There's also some chick named Kim in a leather outfit that hits some redhead in the ass with a whip. Awesome! (Ahem.) The movie ACTUALLY starts now and we see a thermometer shaped space ship hurling through space towards earth. Then a bald guy stares at a computer screen and some bitch with too much make up opens a closet-thing and one of the aliens is in there! Dear Lord! Bald guy gets eaten by the bug/alien, the too-much make-up bitch laughs and it chews on bald guy some more. A couple show up in a jeep, say stupid nothings and get back in the jeep for some kissy-kissy. Bald guy comes stumbling through the alley after NOT DYING SOMEHOW and the couple says this: Girl-"There's something wrong with that guy." Blonde guy-"I know. That looks like me at my graduation night." One word. EPIC.
Bald guy gets up, rips the blonde guys arm off and goes after the girl in the jeep. She then smashes bald guy into the wall with the jeep. I love it when under developed characters die in a horror movie. You don't have to put any effort into the experience.
Too-much make-up bitch
is now talking with Vincent Rice about how she needs to continue his work when he dies or some pointless shit no one cares about. Then he dies. How convenient. A bargain basement author is working on his novel and we see a photo of the main blonde hottie that I don't remember her name. We'll get to it shortly.
Main blonde hottie and her bf are having sweet lovin' in her bed. Soft-core, much? I still don't understand how she isn't hot enough or too old to be an actress. Her agents must be gay.
Main blonde hottie
gets a screenplay in the mail and gets pissed that its for one crappy movie instead of the other. Oh the humanity. Her dumbass agent shows up, asks for a bud light and checks out the assistant. She's mediocre at best.
Main blonde hottie comes outside in a bright red one-piece swimsuit and a green sun hat. I must say. I'm pitching a tent in my pants. I'm going camping for a while.
The two of them just keep going on yelling at each other about how she doesn't want to be in the movie she got the screenplay for. Gay agent leaves and

Main blonde hottie's assistant has the director of the movie she DOES want to be in on the phone. More blathering. The longer I can see her in that swimsuit and hat, the better.

Main blonde hottie

is sun bathing, an old guy is cleaning her pool, and T

oo-much make-up bitch

shows up. She makes a shallow case about slowing down the aging process. She wants to sell her a serum so she can try it out.

Main blonde hottie isn't convinced.

T

oo-much make-up bitch vanishes into somewhere, and leaves a small box with a bottle of the serum and two syringes. It's party time.
Main blonde hottie calls her bf wherever the hell he is, he tells her he needs some rest and then he kisses some other chick in bed. Somehow, I'm not surprised one bit. Mbh dreams about winning an oscar or some shit, and then she gets gorilla hands complete with a zombie face. I've been stalling for this moment. Mbh then shoots up with the serum (the song "jump around" starts playing). Let the alien, bug-fest commence!
T
oo-much make-up bitch is either a female version of Buffalo Bill or she's a lesbian that has a huge crush on Mbh. Either way it's weird and creepy. More great nudity from Mbh. This movie is better than I remembered. Gay agent shows up and Mbh looks SO DAMN HOT. More stupid dialogue about her getting the role in Savage Goddess or whatever it's called. I don't remember Huey Lewis being in here! What a pleasant surprise! Another creepy Buffalo Bill scene with
T
oo-much make-up bitch. Then she shoots herself. Two moves in a row where someone shoots themselves. I didn't realize it was going to be like that. I'm not about that life.
Mbh's assistant is completely naked in her swimming pool. She has a pretty nice body. Mbh assaults Huey Lewis about the lead role in that Savage Goddess film, and he turns into a dick. She runs away. More naked assistant. Mbh starts changing into a bug/alien. Finally. This is a slow burner, isn't it? All hail, Rubber bug beast! It then eats Mbh's assistant. Gay agent and Leisure Suit Larry are bitching at each other one the phone about this stupid ass movie. Bargain basement author is lifting weights, hears on the radio that the doctor that made the serum is dead and that it causes mutations. Interesting. Just like medicine in real life.
Now Gay agent and Bargain basement are on the phone and Mbh shows up at Gay agent's office. She twists his arm, shoots up and gets buggy. Gay agent is dead. Yay. The Revenge of Shinobi music plays in the background. Mbh sees her bf doing work with another chick on their couch. She does the worst striptease ever committed to film and Rubber bug beast kills the ass-hat through the window. Genius. Rubber bug beast also slaughter's the showgirl. I'm going to cry. Bargain basement shows up and has a very slow and clumsy show down with Rubber bug beast. Mario and Luigi shoot Rubber bug beast in the back. Mbh is dead now and Bargain basement author can go back to doing what he does best: WRITING. An alien bursts out of his chest. The end.
Evil spawn is clumsy, entertaining and full of plot holes. Just like a block of finely aged cheese.
But seriously, Bobbie Breese is GORGEOUS and really is the only reason to watch this movie at all. Other than that, if you're in the mood for something that's going to trip and fall on itself while showing you some small amounts of soft-core skin, I'd say this is the ticket. Just don't let mommy catch you. Where's the popcorn and nonpareils?